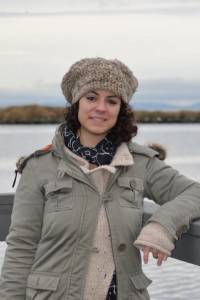 Ana Elia is currently the co-director of CEHDA – a migrant and environmental justice non-profit based in
Catalonia and in Ghana. Her research and professional interests include social networks, gender and
ethicity in natural resources management, feminist political ecology, environmental and migrant justice,
as well as creatively and music-led facilitated spaces for group cohesion and effectiveness. She co-
creates spaces to support social network analyses in socio-ecological contexts as well as to support
community-based research, knowledge mobilization and equitable community engagement for local
resilience.
In 2017, Ana Elia completed her PhD under the supervision of Drs. Rob Kozak and Howie Harshaw (UBC
Forestry), Dr. Leila Harris (UBC Institute for Resource, Environment and Sustainability) and Dr. David
Tindall (UBC Sociology). Her research focused on the intersection of social capital, gender and
empowerment in two community-based ecotourism ventures in the Volta Region of Ghana. For this
research, she was awarded the Mary and David Macaree Fellowship in 2010, 2011 and 2012, as well as
the UBC four year fellowship. Her research is also funded through a SSHRC Insight Development Grant
"Fostering community forest enterprises with a multilateral funding mechanism for mitigating climate
change: Examining REDD+ and the roles of social capital, gender and institutional legitimacy."
Ana Elia holds several certificates in Creative Facilitation, focused on communities at risk of exclusion.
She also holds a Master of Science in Forestry and Society (2010) from UBC, a Bachelor of Science in
Forest Engineering (2006) from the Univeristy of Lleida, as well as a Technical Engineering Degree in
Agriculture (2003) from Barcelona-Tech.
More information about Ana Elia and her work is available HERE.
Contact: anaelia [at] cehdaghana [dot] org